Travel Japan with Papemelroti artist Robert Alejandro! A deer helped him do his art! READ

Inkfest invited our very own Robert Alejandro to give a talk last Nov. 29, 2014.

Papemelroti San Lazaro branch is moving soon to a bigger and better location! We are going to the lower ground level near the food court and we have a wider space to showcase the products and to serve you better!

Thank you Ms Lyn Ching Pascual for stopping by our shop at Roces Ave and for featuring us at the Side B blog! READ

Papemelroti Gift Suggestions spotted last Nov. 10, 2014 at Unang Hirit! READ

Our pocket planners are on Rappler! They said, "These come in a host of different designs featuring the brand's trademark cozy look and feel. We particularly like the one that says that every day of the year equals 365 new beginnings." READ

Children's Craft Giveaway is EXTENDED! Due to Facebook hashtags not working, we are changing the mechanics of the contest. For Facebook entries, send your entries as a private message to us here.
---
Resellers Corner Spotlight: Noteworthie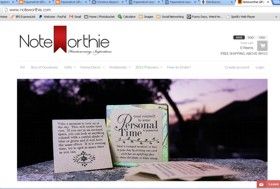 If you're based in Malaysia, Papemelroti products are only a few clicks away. Visit the Noteworthie Gifts online store and see how what the customers are saying about the products.
They've got the latest wall calendars and pocket planners available! READ
Resellers Facebook Group | Tips | Update Listing | Distributor Page
*
Order your Christmas' Day corporate giveaway items now!
VIEW
Want to try being a reseller?
READ MORE
---
Books for Less Updates Give books this Christmas! Visit the BFL Warehouse sale with P20 books at SM Manila until Dec. 15, 2014. Bring your ecobag for great finds! For more information call 633-8554 or 0917-630-9999 BFL website