Our Papemelroti SM Fairview branch is on the move! We are transferring to a more spacious location! While we are spiffing it up for you, we have opened a temporary space at the lower ground floor beside Ricky Reyes across BDO almost directly below our old location. (Opened Jan. 21, 2015). It's not yet totally finished but we are open for business already!!! The new location (coming soon) won't be far from there too. Some pictures of the temporary space

NOW OPEN! Bigger and brighter SM San Lazaro branch! We've moved to the lower ground level near the food court for a spacious and more easily accessible location (as it's toward the middle section of that level) last Dec. 13, 2014. See designer Robert Alejandro's painting on the counter wall (without a pencil!). Great job Robert!!! Please come and visit and tell us what you think!

We were so blessed to see Pope Francis this month! We also partnered with Veritas Foundation in providing commemorative items until January 31, 2015. See on Facebook

Many of you have been asking about our 2015 Wall Calendars and Pocket Planners as they have gone out of stock! We want everyone to know that we are reprinting some Pocket Planners now and will come out at our shops very soon!

Thanks to Philippine Inquirer columnist Michael Tan for appreciating our artist Robert Alejandro's work on our past calendars. (Jan. 9, 2015) READ

Find one of our products on Spot.ph's "10 Smart Storage Solutions to Help You Stay Organized This Year" READ

Congratulations to our SM San Lazaro branch for winning an SM Award for being one of the top performing shops during a Mallwide Sale!

Congratulations to Ammaica Eunice Dacanay for winning the Best is Yet to Come Giveaway! She said, "Wow. I have joined this contest and I was surprised to know that I have won. I only tried to join and almost everyday, I am placing a raffle entry by posting, sharing, and stuff. It was a great opportunity for Papemelroti fans. There were a lot of entries and luckily, I have won this contest. Thanks Papemelroti. More powers to you. Looking forward to future giveaways. God bless everyone."
---
Resellers Corner: Shipping Do's and Don'ts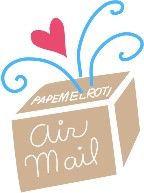 Korben Corporation, (Tradename: Papemelroti) is now on it's 48th year! This business has touched the lives of so many and has provided livelihood for a good number of distributors across the globe!
We plan to make everything better for you this 2015, our valued Resellers! We know that a major chunk of the expenses you incur comes from
READ MORE
Tips | Update Listing | Distributor Page

*

Order your Graduation Day products now! VIEW Want to try being a reseller?

READ MORE
---
Books for Less Updates SM Manila Branch WAREHOUSE SALE! Thousands of books at only P20! Happening now until Feb. 14, 2015! For more information call 633-8554 or 0917-630-9999 BFL website