Tree Frames | Christmas Crafts Journal | Holy Family Craft
If you're looking for a change in this year's Christmas decorations yet aren't willing to splurge on shopping for new decor, then you've come to the right place. Even more meaningful than having a new look is making the decor yourself!
We even used this in this year's look for our shops:
Papemelroti, SM Megamall Branch (2013)
Doesn't it look festive?
We thought you'd appreciate as well that all the materials we used to spruce up our shops can all be found in your own home or by charming the local seamstress for some of her scrap cloth.
Here it is upon closeup.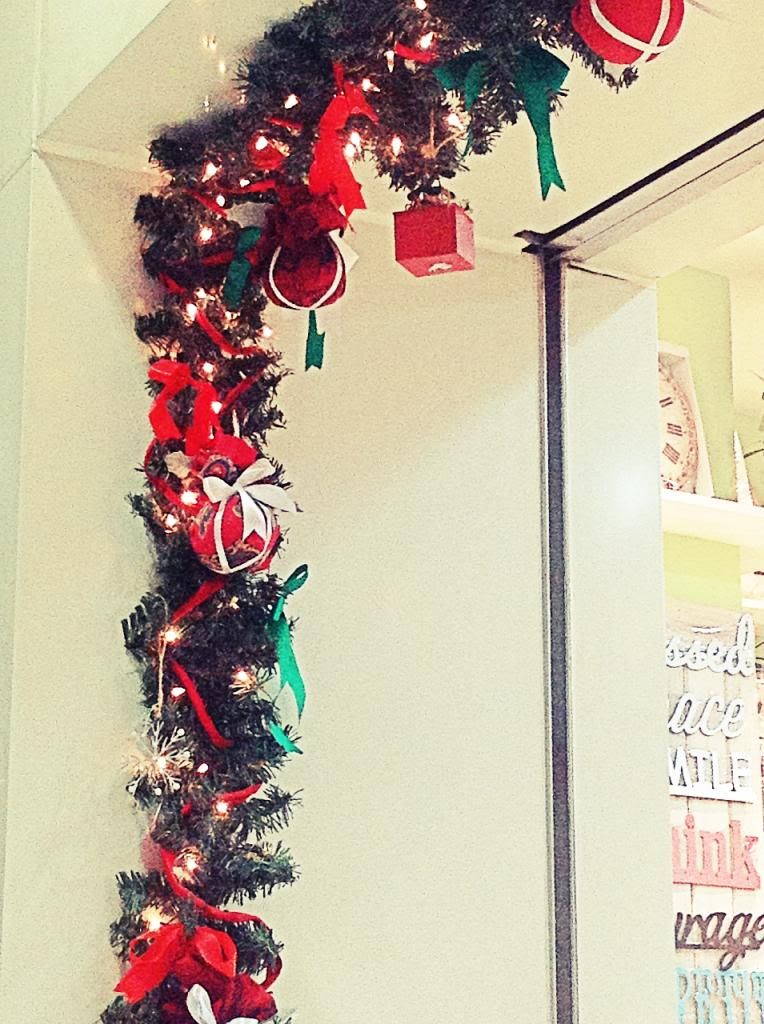 We're not making the holly garlands or lights. We're making the Christmas balls!
You'll need:
Newspaper
Red or Green scrap cloth
Ribbon or String
Scissors
How to Make Christmas Balls
Make a ball by crumpling scratch paper or newspaper tightly (around 3 inch diameter).

Cut red cloth of 13" x 13".

Wrap cloth around the paper ball, not so tight - make sure it is smooth, not crumpled outside.

Tie with ribbon on top and then hang 2-3 inches from the holly. Hang these 1 foot apart in different heights on the holly.
If you don't have any holly, grab some branches or twigs lying about outside your home and put into a can full of smooth stones. You can then hang the Christmas balls on the branches and decorate with Christmas lights to complete the look!
For inquiries, e-mail us at

Sign our Guestbook, we'd love to hear from you!
Christmas Belens | Nativity Sets | Christmas Cards
[ Home ] [ Up ] [ Holy Family Craft ] [ Easy Diy Christmas Decor ]